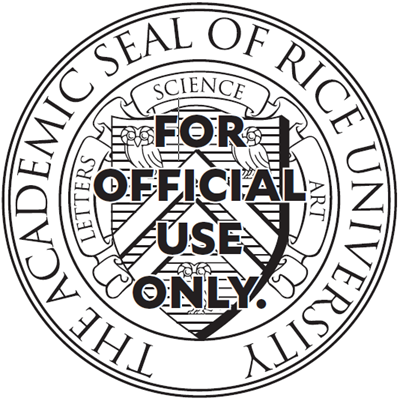 The Rice University Seal
The Rice University seal features three Athenian Owls, which were patterned after a design found on a small silver tetradrachm coin dating from the middle of the fifth century B.C. Our original seal was designed in 1912 by Pierre de Chaignon la Rose of Cambridge, Massachusetts, who combined the main elements of the arms of several families bearing the names Rice and Houston. Owls of Athena — symbolic of wisdom — were chosen for the charges. Because Rice University was dedicated by its founder to the advancement of letters, science and art, these words were also incorporated into the seal.
 
The Rice University seal, also known as the academic seal, is the official business emblem of Rice University and is not intended for general use. It is reserved for select purposes, and its use by anyone other than the Rice Board of Trustees and the president is not permitted.
For questions or special requests, please contact the Office of Public Affairs at 713-348-6280 or email pubaffrs@rice.edu.