Presenting a unified appearance across the Rice University campus is important for maintaining Rice's reputation as a leading educational institution. The following examples  can be used as reference. For any lockup needs, download the official academic and adminstrative logo lockups at bit.ly/rice-logo-lockups or submit a logo lockup request at  publicaffairs.rice.edu/logo-proj-req-form.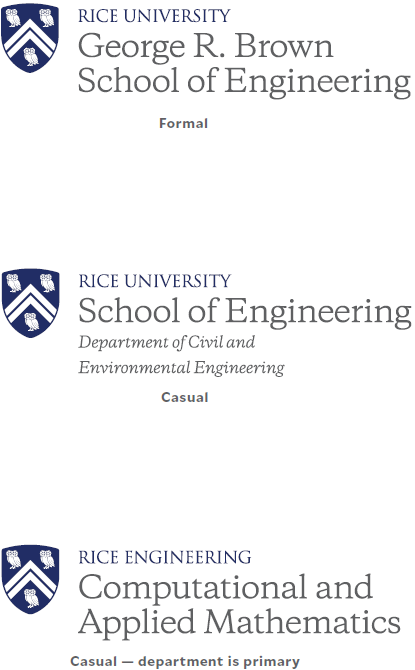 Lockup System
A Flexible Brand  
The lockup system was designed to provide a variety of ways to create branding for the university, schools, offices, alliances and subbrands that make up Rice. Lockups range from formal to casual and have multiple hierarchies to allow different groups to take the lead in a particular branded application or allow multiple groups to be represented as equal partners.
Formal or Casual
Tailored Lockups
Formal logo lockups use the full name of the organization, which is particularly important for academic schools with a formal name attached, e.g., George R. Brown School of Engineering. It is recommended that the formal lockup be used when deemed appropriate for the audience. 
The casual lockup which omits, for example, the "George R. Brown" portion of the name, can be used for most communication needs, especially internally, as these audiences are already familiar with Rice and will be able to recognize where the communication originated.
Parent and Child Usage
Clear Hierarchy and Priority
The lockup system was designed to allow for multiple forms of representation, allowing for either the organization's full hierarchy to be acknowledged or to allow for a particular group to take the lead in 
the lockup.
Lockup Typography and Color
To maintain brand consistency, position all Rice department and program titles to the right of the shield and under the school name, as shown.
 
To ensure its visibility, a lockup requires a clear zone surrounding it, equal to the height of the owl in the shield. No graphic elements of any kind should invade this zone.
 
The school name is in Trajan printed in Rice Blue (Pantone 280). The department title, if applicable, is in Copernicus printed in Rice Gray (Pantone 425). 
Write out school and department names fully; acronyms are not permitted in lockups, as they generally do not comunicate meaningful information.