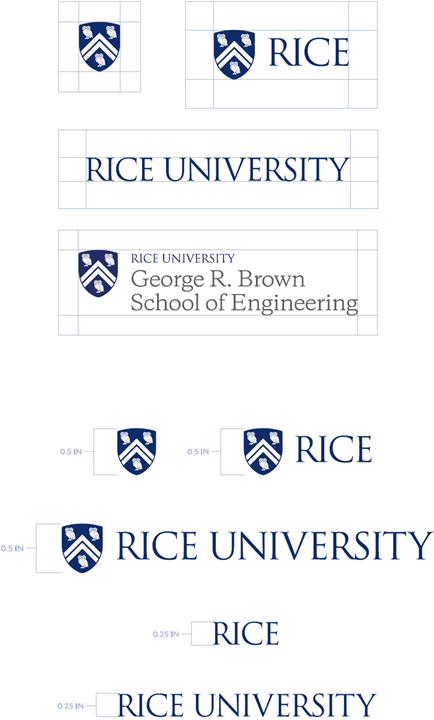 Minimum Clear Space
Whenever you use the official Rice University logo, it should be isolated from other design elements by a minimum clear space to ensure its visibility and impact. No graphic elements of any kind should invade this zone. The amount of clear space is determined by the mark being used.
Shield and University Logo
The clear space for the university logo lockup is determined by the height of the logo. This clear space must be maintained on all sides of the mark.
Parent and Child Lockup
The clear space for the parent and child logo lockup is determined by the height of the Rice University logo and the first line of the lockup. More information about the lockup system.
Minimum Size
Following these minimum size requirements ensures that the mark retains legibility and remains recognizable.
The height of the shield and logo should not be less than one-half inch in any application, shown here in actual size. (This is a minimum height of 36 pixels.)
When the Rice logo is reduced to less than one-half inch in height, graphic elements in the shield are lost. In those instances, use the wordmark alone for internal and external communications.
If you have an application that requires the logo to be reduced in size, you should contact Public Affairs for specially tailored marks.