Beyond the primary wordmark and identity system, there are a number of marks related to the greater Rice brand, including the Rice Athenian owl, the university seal, the Rice Athletics brand and Rice affiliated groups such as the Moody Center for the Arts. Information on the use of the owl and seal can be found below. For details about the use of the Athletics marks, or any of the Rice subbrands, please see specific links for usage guidelines as they are not managed by Public Affairs and have their own regulations.
Athenian Owl
The Wisest of Mascots
The Rice Athenian owl is a complementary mark to the primary Rice identity. It cannot be used in place of the primary mark but can be used in other applications where a more informal style of identification is appropriate.
The same rules regarding incorrect use of the Rice mark listed above apply to use of the owl as well. The minimum approved size is one-quarter inch high, and the minimum clear space on all sides should be equal to the width of the owl.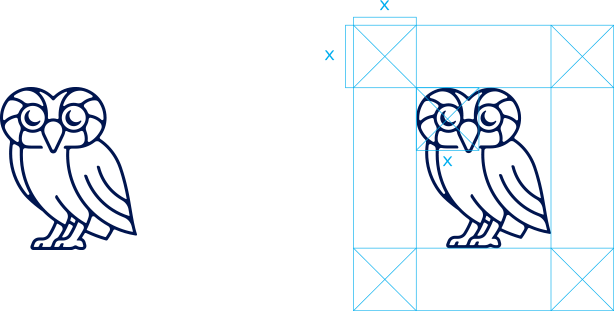 Academic Seal
The Rice University seal features three Athenian owls, symbolic of wisdom, which were patterned after a design found on a small silver tetradrachm coin dating from the middle of the fifth century B.C. Our original seal was designed in 1912 by Pierre de Chaignon la Rose of Cambridge, Massachusetts, who combined the main elements of the arms of 16 prominent families bearing the names Rice and Houston. Owls of Athena — symbolic of wisdom — were chosen for the charges. Because Rice University was dedicated by its founder to the advancement of letters, science and art, these words were also incorporated into the seal.
The Rice University seal, also known as the academic seal, is the official business emblem of Rice University and is not intended for general use. It is reserved for selective purposes, and its use by anyone other than the Rice Board of Trustees and the president is not permitted.
Contact the Office of the Vice President for Public Affairs at 713-348-6280 or email pubaffrs@rice.edu with any questions or special requests.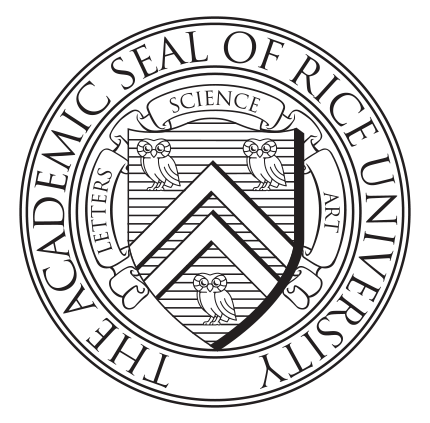 Rice Athletics
Rice Athletics logos are licensed and trademarked, and their use is governed by the Rice Athletics group. Contact Rice Athletics marketing at 713-348-6923 for usage and permissions.